Jeg håper du som kommer
er av den ydmyke typen,
som tråkker forsiktig
lager lite lyd
og ikke bryter grener
uten grunn.
Jeg håper
du
som kommer hit
ser for deg
at dine barn,
dine barnebarn
kommer og står stille
når de ser grevlingen
lunte forbi.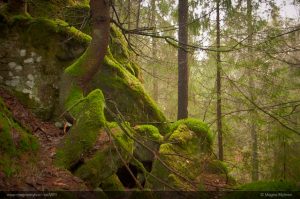 setter seg i mosen
og sitter lenge,
lenge.
koser seg ved et lite bål
og mister oversikten
over hva tid er.
lar hånda stryke
over mosegrodde stammer
mens små solstråler
streifer bakken.
kjenner lukten
av våt jord
om våren.
har glede
av å følge dyretråkk
der stiene mangler.
Jeg håper.
—
If you enter this forest
I hope you are a humble one,
who walks carefully
without noise,
and who doesn't break any branches
for no reason.
I hope that you imagine
that generations to come
will be standing still
watching
the badger passing by.
will be sitting in the moss
for a long, long
time.
will be warmed by a fire
losing the concepts of time.
will be stroking the moss-clothed trunks
with the palm of their hands,
while beams of sunlight
hit the ground.
will be smelling the scent
of wet soil
of springtime.
will be happy to follow
the deer's trails,
where no human trails
exist.
I just hope.
[soundcloud url=»http://api.soundcloud.com/tracks/41039024″ iframe=»true» /]
Magne